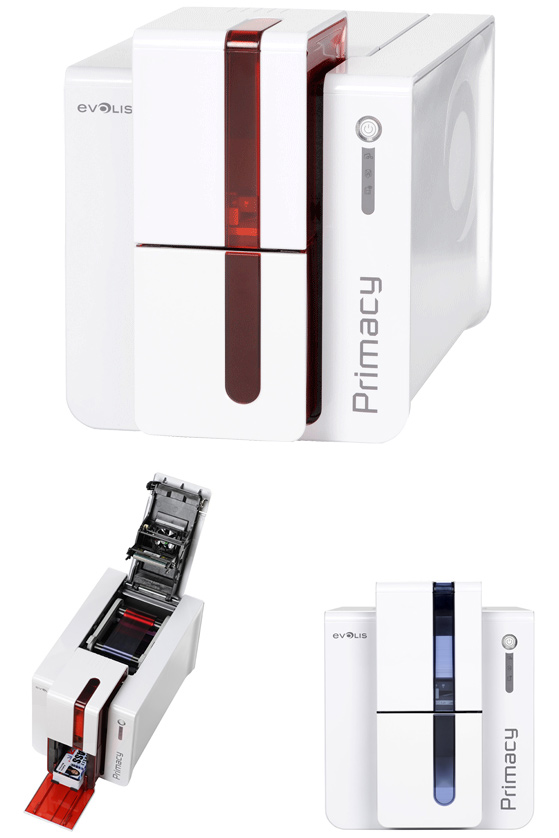 The Primacy Expert version can be upgraded with multiple encoders such as encoder for magnetic stripe cards. This encoder allows you to personalise your cards in two different modes:
ISO 7811 Norms using tracks 1, 2 and 3 (standard factory settings) Custom mode for specific applications (with different track formats, density per track, start and stop characters…). For magnetic specific encoding developments, please ask us the programming guide or contact our technical support.
Not forgetting to mention that the encoder can be defined by the user to operate with either a low (300 oersted), medium (2750 oersted) or high (4000 oersted) coercivity, by a simple click via the Windows driver. To set the medium coercivity, select high coercivity in the Windows driver.
Field Upgrade your Primacy to mag encode!
This magnetic encoder can be fitted to any Primacy 'EXPERT' card printer, simply contact InteractCard to get your Primacy field upgraded. This simple operation enables the user to update the printer at low cost and without needing to change equipment.
The ultimate card printer!
Primacy is a high-end printer that is easy-to-use, flexible and fast.
When loaded with the Evolis cutting-edge encoding technologies, Primacy turns into the ideal solution to issue cards.
Primacy supports any requirement in card printing and encoding, in medium to large runs. This is the perfect option to deliver:
transportation passes
payment cards
identification badges
as well as multi-feature cards: student cards for example
Primacy is available in single or double-side printing versions, with or without encoding technologies
The encoding or double-sided printing options can be installed to order or at any time after on site
All Primacy versions are available with USB and Ethernet TCP/IP connectivity
Primacy personalises color cards in a record time. Up to 210 cards per hour for one side, and 140 cards per hour for dual-sided printing. The same machine can print on either one or both sides, and the dual-sided option can also be activated on-site. This flexible printer can also be fitted with additional options at any time, when magnetic and contact/contactless encoding are required.
Primacy card printer comes with a very convenient 100-card feeder.
Shipped with the Evolis Premium Suite® software solution, Primacy makes self adjustments when in operation. Users benefit from screen-based alert pop-ups, while 24/7 online help is available just a click away. Cards can be simply loaded at the printer's front side. Ribbons are available in a cassette system that can easily be dropped into the printer. Each ribbon is automatically set and identified. that allows you to create personalised plastic ID membership loyalty cards. Whether you need to print mono colour or full colour cards, the Evolis Primacy ID card printer is the answer.
This desktop solution is ideal for creating identification, loyalty or membership card schemes, the ideal 'click & print' solution delivering your cards in seconds! Using a suitable application of your own, generate your ID cards at a click of a button.
Thermal transfer and sublimation
Edge-to-edge printing
Up to 210 ID colour cards/hour Single/side
Up to 140 cards per hour Dual Side
Up to 850 monochrome cards/hour
Integrated Mono colour Ribbon Saver feature
300 DPI Resolution
3 year warranty!
Ethernet Network connection
Primacy is one of the fastest printers in the market, and this next generation printer matches top-of-the-range performances with higher image resolution.
Fastest all in one card printer
Reduced cost of printing
Sleep mode & reduced energy consumption
CE, FCC, IEC, VCCI, ErP 2009/125/CE, Energy Star, RoHS
Compact, Lightweight & Quiet
Upgradable to Dual side printing
Primacy benefits from the expertise and proven quality standards of Evolis. This enables optimised operations and perfect results. Evolis' strong commitment to quality is legendary, and is echoed by a 3-year warranty.
Primacy is an eco-designed printer. The energy consumption is on average 5 times lower than printers from the previous generation. The printer benefits from the ENERGY STAR certification and is compliant with the ErP directive. Primacy operates at a low 48 db sound level and, therefore, can be seamlessly deployed into any working environment.
The card printer can be set to automatically print on both sides of the card (duplex) or with a single sided printer, the operator can always reload the card in upside down to print on the back of the card manually.